The sylvan setup of the Park provides many special features which attracts the visitors in large numbers.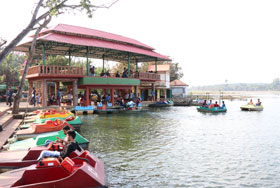 Boating
Boating on paddle or row boats in the blue water of Kanjia lake is an exhilarating experience. The multi-storey Boat Ghat is renovated to give new looks providing enough space for the visitors to relax and enjoy the picturesque fresh water spreading over an area of more than 66 ha. lake. The boating service is outsourced for better management and satisfaction of the visitors. The lake is also known for its rich floral and faunal diversity and is declared as a Wetland of National Importance by Govt. of India.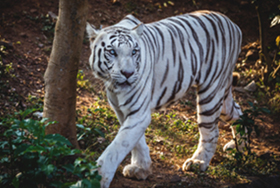 White Tiger Safari
A unique white tiger safari established on 1st October, 1991 over an area of 12 ha in natural surroundings. It provides exposes you to unique situation where the visitors are confined in a vehicle and the animals roam in the open jungle. Nandankanan is the first zoo in India with a white tiger safari.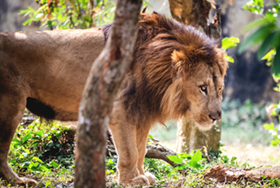 Lion Safari
A twenty-minute drive through the meandering roads crisscrossing the natural forest in a specially protected vehicle takes the visitors straight into pride of lions in the lion safari over an area of 20 ha established in the year 1984.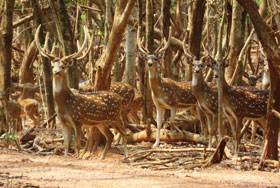 Herbivore Safari
Herbivore safari was established in the year 2011 extending over an area of 21 ha. with a road network of 2 Km. length. The safari houses Barking Deer, Spotted Deer, Sambars, Four horned antelope, wild boar, jungle fowls, peafowls etc.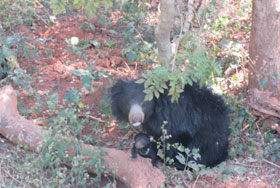 Bear Safari
A Bear safari covering an area over 5 ha. has been established in the zoo during the year 2012. Visitors can avail opportunity to sight sloth bears in their natural habitat through safari bus service.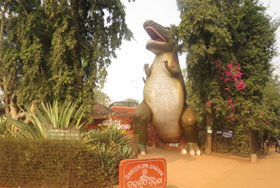 Reptile Park
A reptile park, with a life size Tyrannosaurus at its entrance with an interpretation centre houses 27 species of reptiles including crocodiles, lizards, turtles and snakes. One would encounter crocodiles, king cobras and a huge Reticulated Python inside the reptile park.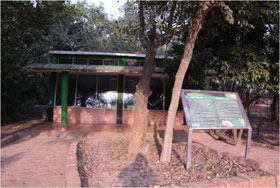 Amphibian enclosure
An amphibian enclosure has been established with viewers' gallery over a plinth area of 56 m2. Necessary behavioural enrichments like flowing water saw dust, live plants, water pool etc. have been provided within the enclosure. The enclosure is designed to house and display amphibian species. Nandankanan is the first premier large zoo to exhibit amphibians. At present there are 21 numbers of amphibians belonging to six species.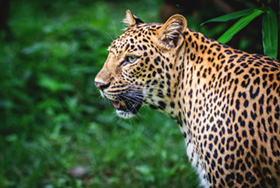 Open top Leopard enclosure
The new open top Leopard enclosure in Nandankanan is one among the very few in the country which attempts to exhibit this species in a large naturalistic enclosure which is open to the sky. This enclosure has been designed aesthetically to maximise visitor satisfaction without compromising the safety and security of the animal as well as visitors. The enclosure which has an exhibit area with a deep dry moat also has four feeding chambers and two back kraals. The entire enclosure has existing natural vegetation including two large Ficus bengalensis trees together with other trees and bushes. In addition, environmental enrichment by way of machan platforms, stone cave, wooden logs, water trough etc. has been provided to encourage them to indulge in natural activities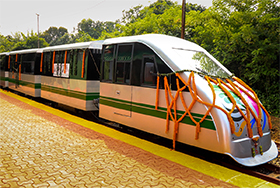 Toy Train
The toy train has been a great attraction for the children. Its starts from the toy train station which goes round a circular track of 1.58 Km. along the lake and thickly vegetated hillock area with free ranging herbivores.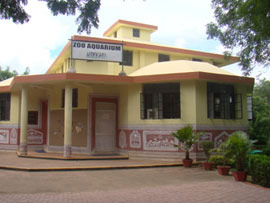 Aquarium
Aquarium is an integral component of a modern zoo. Adequate steps were taken to include well researched education materials on the various aquatic ecosystems both marine and fresh water indicating their uniqueness and conservation needs. The aquarium was dedicated to the visitors on 4th February, 2008 by the Honourable Chief Minister, Odisha.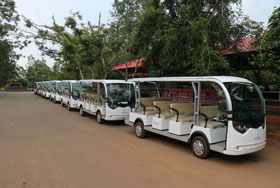 Battery Operated Vehicle
To facilitate elderly and physically challenged visitors in particular and tourists in general, Battery Operated Vehicles (BOVs) are available for tourists on payment of Rs.80/- per head.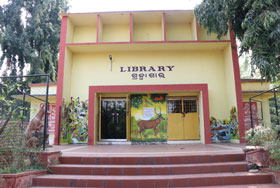 Library
If one has got time and an aptitude for learning then the centrally located library, with a wonderful collection of more than 3000 books and journals on wildlife, veterinary and other matters can serve one's satisfaction.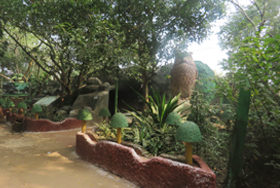 Nocturnal Animal House
Many animals that only move freely at night but are almost immobile and hide in the thicket or in their burrows during the day are housed here. The twilight condition is created in these enclosures to provide an opportunity to the visitors to know what these animals secretively do in the darkness of the night.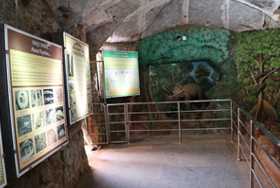 Reptile Interpretation Centre
An Interpretation Centre depicting the evolution and biology of reptiles has been established in the entrance of Reptile Park displaying models of prehistoric animals.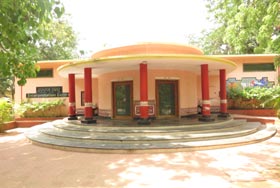 Interpretation Centre
The Interpretation Centre has been established near the entrance gate. The Centre has display boards, models and audiovisual aids depicting the importance of Zoological Park and other important wildlife areas of Odisha. It also displays the activities behind the scenes for creating awareness amongst the visitors. A film on Nandankanan is also screened in the mini-auditorium inside the Centre.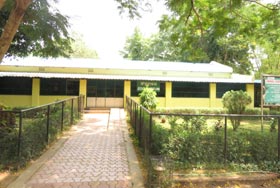 Zoo Museum
The zoo museum established in Nandankanan to preserve, display and interpret the animal specimens of zoological importance for public viewing and nature education. The museum displays taxidermy specimens, formalin preserved specimens of early developmental stages of animals and eggs of flightless birds. This facility will be of great interest to the visitors in general and school children in particular.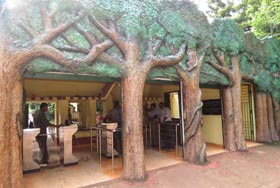 Electronic Gate Entrance System
An automated electronic entry gate system has been installed in the Zoological Park on 30.03.2012. Each visitor is issued with a bar-coded ticket for entering through any of the six electronic gates into the park. This gives an exact figure of adult, children and foreigner visitor entry statistics at any point of time. This facility is the first of its kind for entry into any tourist place in Odisha.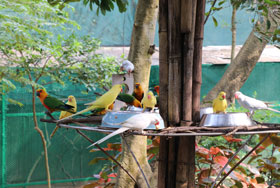 Walkthrough Aviary
The walkthrough aviary for exotic birds is a unique exhibit of its kind in the country. The walkthrough aviary has a cascading waterfall and a meandering water channel of 58 m length connecting two pools having two arched cross over bridge along the 216 m laterite stone paved walking path with separate entry and exit points. In addition to the existing large and small trees, hundreds of selective plants have been planted to provide perches and hiding places for the birds housed. There are enough feeding points and nest boxes for use of the birds selectively. The inmates of the aviary are mixture of arboreal, terrestrial and aquatic birds. It is a visitor's delight to view the free flying birds over head.