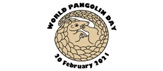 CELEBRATION OF WORLD PANGOLIN DAY
AT NANDANKANAN ZOOLOGICAL PARK, 20TH FEBRUARY 2021
The World Pangolin Day was observed at Nandankanan Zoological Park on 20th February 2021 where Sri Bimal Prasanna Acharya, Deputy Director, Nandankanan Zoological Park, Dr Siba Prasad Parida, HOD, Dept of Zoology, Centurion University, and Prof Sudarshan Maharana, (Rtd) Director of Education, Odisha has addressed the gathering as Guest of Honour. The celebration was observed with a mass awareness programme amongst the visitors, students from different schools, students from different universities, guides and staffs of Nandankanan with a message for pangolin conservation. An open quiz competition was conducted amongst the visitors on the theme "Pangolin & Me". The prizes have been distributed to the 20 number of winners.Dr Siba Prasad Paridaand Prof Sudarshan Maharana was attended as Guest of Honour in the occasion and emphasized to motivate the people of surroundings and their involvement to protect the precious species from extinction which is already found place in the Red List of IUCN as "Endangered" for extinction. Finally, a signature campaign was organized to raise the awareness amongst the visitors.
Deputy Director
Nandankanan Zoological Park