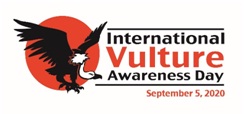 INTERNATIONAL VULTURE AWARENESS DAY 2020
International Vulture Awareness Day was celebrated on 5th August, 2020 in an unique way due to pandemic situation. Some interesting events are conducted on-line. Drawing competition was held on 30th August, 2020. The winners name of both senior and junior group was announced on 5th September, 2020. On the same day an interactive on-line quiz programme on "Vulture Conservation" was conducted through our Nandankanan web page and Nandankanan app. More than 500 on-line visitors participated in this quiz competition. Results will be declared on 7th September, 2020. All winners certificate and mementos were sent to their postal address via courier service. Participants are highly enthusiastic towards issue of e-certificate for all.
Finally, a video regarding our Vulture Conservation Breeding Centre was posted on face book page and twitter account to raise awareness amongst the people.
Deputy Director
Nandankanan Zoological Park