Director's Desk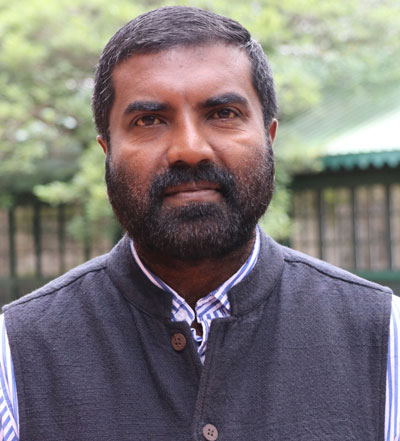 Nandankanan Zoological Park has its humble beginning on 29th December 1960 as the first zoo of the State. Over the years, with its unique amalgamation of ex-situ and in-situ initiatives, Nandankanan has emerged as a pre-eminent centre for biodiversity conservation and environmental education in the country. It has gradually evolved over time with significant improvements in providing the highest standards in housing, husbandry and health care to its inmates and also a fascinating learning experience to its visitors. It was the first zoo of the country to be a member of the World Association of Zoos and Aquariums (WAZA) in 2009.
Nandankanan, true to its name, is verily a heavenly forest of Gods and its salubrious surroundings are a treat to the eye. Apart from the verdant environs of the zoo, there are two important wetlands here namely Kanjia lake spread over 66 ha and Kiakani lake spread over 25 ha. The former was listed as a Wetland of National importance in 2006 based on its rich biodiversity and important role in wetland education. Nestled alongside the lakes is the State Botanical Garden sprawling over 75 ha of beautifully landscaped grounds, one of the most important plant conservation facilities in the State. It was handed over to Nandankanan Management in August, 2006. The Zoological Park together with the State Botanical Garden, Kanjia lake and Kiakani lake was declared as the Nandankanan Wildlife Sanctuary having an area of 4.37 sq. km. on 3rd August 1979. The natural forest areas of the sanctuary provide a safe home to a rich assemblage of flora and free-living wild fauna. Moreover, it plays the crucial role of being the green lungs of the capital city of Bhubaneswar.
The year 2020-21 was a year of great change and significant challenges. Due to the COVID-19 pandemic, the Zoo and State Botanical Garden were closed to visitors from 17th March 2020 to 3rd October 2020, thereby ending the primary source of revenue. Though gradual reopening of the zoo following all government regulations including physical distancing guidelines led to an inflow of visitors, it was much reduced in numbers. Even then, we received 8,20,894 visitors in the zoo and 72,829 in the State Botanical Garden during the year 2020-21, signifying the deeply felt need among the general public to connect to green spaces and wild nature.
One of the most amazing things we see in nature is the need and capacity to adapt. Following that cue, for the welfare of our animals, staff and visitors we have made sanitation, hygiene and biosecurity a priority. Regular tests for COVID-19, provision of COVID-19 Kit and vaccination of our staff were carried out for our staff to prevent zooanthroponosis. Adapting to the changing times, we too have evolved with the pandemic situation, leveraging the use of technology and could carry out several activities on a virtual mode. Among them, the virtual tour of Nandankanan and State Botanical Garden, online animal adoption programme and a number of online awareness activities are worth mentioning. The pandemic has made us revive and pursue the Adopt-an-Animal program to mobilize resources for animal welfare. More than four hundred individuals and six organizations have contributed to the program.
New infrastructure like safari bus stop, visitor aid kiosk, water monitor lizard enclosure and Nandankanan selfie point were created during the year. Besides, the intervening time during the pandemic was used to renovate many enclosures and supplement them with enrichments, signage, landscaping and animal keeper sheds.
During the year, 232 animals including 91 mammals, 136 birds and 4 reptiles were born at the zoo. Among them, birth of Indian pangolin, sloth bear, tiger, stump-tailed macaque, Assamese macaque, Indian gaur, giant fruit bat, Indian fox, mouse deer, swamp deer, brow-antlered deer, Indian rock python etc. are noteworthy. We have welcomed 26 new animals of 9 species with an objective of infusion of new bloodline to the existing stock and has added 2 new species to the collection. However, we said final adieu to some precious animals of our Zoo, notably the tigress 'Anini', Himalayan black bear 'Kulu' and 'Chulu', sloth bear 'Arati' and lioness 'Supriya' who were very popular among visitors. Further, as a commitment to in-situ conservation, 6 transmitter-tagged gharials consisting of 3 males and 3 females were released in the river Mahanadi on 5th January 2021 under the "Species Recovery of Gharial (Gavialis gangeticus) in river Mahanadi" project.
Many zoo education activities including Celebration of World Wetlands Day, World Pangolin Day, World Wildlife Day, World Environment Day, International Tiger Day, International Vulture Awareness Day, Wildlife Week, World Elephant Day, International Tiger Day and Foundation Day etc. were organized during the year 2020-21.
There has been substantial effort to maintain the highest standards of health care and animal husbandry practices resulting in a reduced annual death rate during the year 2020-21. This was possible due to sincere efforts by our zoo veterinarian, cooperation from the College of Veterinary Sciences and Animal Husbandry, OUAT, Bhubaneswar, valuable advice and guidance of the Health Committee and Technical Committee on important health care issues.
The Zoological Park with its living collection provides an opportunity for a wide range of research to contribute to wildlife conservation and management. Three research papers and two books were published on various aspects of ex-situ conservation and management of captive wild animals. Therefore, it is heartening that despite disruptive and unexpected changes, the year delivered a number of significant milestones. This Annual Report succinctly highlights all the major aspects related to the management and development of Nandankanan during the past year.
Needless to say, all this could not have been achieved but for the sincere efforts of all members of Team Nandankanan, and I would take this opportunity to thank them all - our dedicated staff, members of various technical and advisory committees, senior officers and the previous Directors of the zoo. I am optimistic that with their hard work and sound advice, aided by the constant guidance of the Chief Wildlife Warden, we will continue to build upon our impactful legacy and forge ahead with a vision to lead Nandankanan into a world-class future.
Sri Manoj V. Nair, IFS
Director, Nandankanan Biological Park